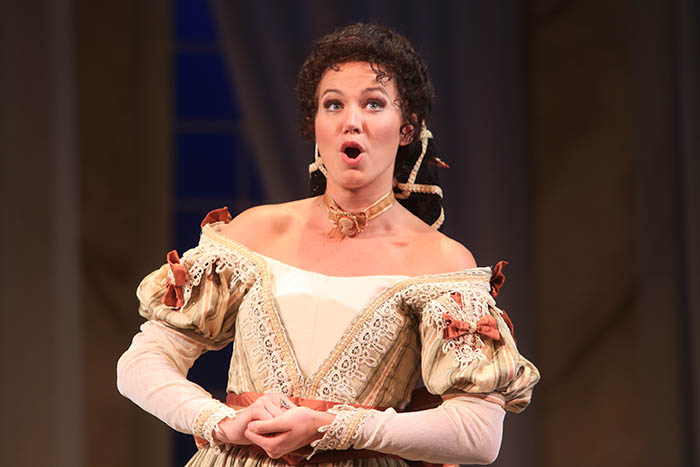 Il barbiere di Siviglia, New York City
"A winning cast delivered a thoroughly enjoyable Barbiere, with vocal honors going to mezzo Kirsten Scott's vibrant, vivacious Rosina. Scott sailed through the coloratura with creamy tone and charm to burn."
– Joanne Sydney Lessner (Opera News, 2014)
"Kirsten Scott, whom we have enjoyed in Mozart, Puccini and Offenbach, had a wonderful time as Rosina, fearlessly tackling Rossini's daunting coloratura in "Una voce poco fa". She succeeded in winning over the audience."
– Meche Kroop (Voce di meche, 2014)
afterWARds: adapted from Idomeneo, NYC
"The role of Idamante was performed by mezzo-soprano Kirsten Scott in travesti ; this character has a different kind of emotional roller coaster to ride and she rode it so intensely that we had goosebumps. We were pleased with the vocal performances overall but found several moments that were outstanding. The Act III quartet did full justice to Mozart's artistry with voices perfectly balanced. The love duet between Ilia and Idamante allowed the voices of Ms. Wei and Ms. Scott to melt together."
- Meche Kroop (Voce di Meche, 2017)
La Cambiale di Matrimonio, Bare Opera, NYC
"She brings Clarina to life in a very sexy but down-to-earth portrayal with a well-sung and sparkling aria in the latter half of the opera."
- Alexis Rodda (Opera Today, 2016)
"There is her impoverished lover, effectively sung by terrific tenor Sungwook Kim. And there is a wealthy suitor from Canada (!) sung by the fine baritone John Allen Nelson. And of course there are two clever servants--Norton (the fine Colin Whiteman) and Clarina (the very gifted Kirsten Scott).
The successful introduction, written by Assistant Director Elias Markos, was delivered by the spunky mezzo-soprano Ms. Scott (who also happens to be the Executive Producer and Co-Artistic Director). Ms. Scott is not only a superb singer but also made an impressive interlocutor, explaining in English what the opera is about."
- Meche Kroop (Voce di meche, 2016)
Goyescas, Bare Opera, NYC
"Kirsten Scott, [Rosario's] lower-class mezzo rival, had every requirement for this show-off role and a large, meaty, exciting mezzo that has obviously trained with Carmen in her headlights."
– John Yohalem (Parterre Box, 2015)
"As with the dancers, the principal singers in Goyescas were outstanding. Baritone Suchan Kim and mezzo-soprano Kirsten Scott were the majismos Paquiro and Pepa, presented as 1980's post-Franco punks, while tenor Sungwook Kim and soprano Larisa Martinez were the aristocratic couple Fernando and Rosario…
The four voices were a pleasure to hear, and were terrific mutual dramatic foils. Suchan Kim and Scott were vivacious and extroverted, while Sungwook Kim and Martinez were self-contained, secure together but confused by their antagonists…
The women's voices were lovely. Scott's teasing manner did nothing to undercut her ringing, clear voice and wide-ranging tessitura."
– George Grella (New York Classical Review, 2015)
The Consul, Florida Grand Opera, Miami
"All the smaller roles were ably filled; Mezzo Kirsten Scott was a good Vera Boronel. It should be noted that all the roles at the consulate — the Foreign Woman, Kofner, Vera, Anna and the Magician — turn into important ensemble roles for the trio, quintet and septet in Acts II and III, and the blend offered by this high-end chorus was beautiful to hear."
– Greg Stepanich, (Palm Beach Arts Paper, 2015)
"From top to bottom, the cast is close to perfect. In smaller roles, Kirsten Scott impressively fill[s] out the large cast."
– Lawrence Budman (Miami Herald, 2015)
"Every remaining cast member makes a tremendous contribution; This ensemble of fine singing actors is on a particularly high level."
– Jeff Haller (Concerto Net, 2015)
"FGO's first run at the piece results in a gut-wrenching, expressionistic nightmare of the unfeeling destruction of humanity by the very societal structures it has created for its protection."
– Bill Hirschman (Florida Theater on Stage, 2015)
Le Nozze di Figaro, Loft Opera, New York City
"Kirsten Scott stole my heart in her role as Cherubino. Was it her boyish looks, along with her sweet voice? Here is an artist who projects. As the constant love struck boy, she delightfully balances the foolishness, with sweet opining. Cherubino sings his love song at Susanna's insistent request, and the Countess is delighted amidst her stress, but the Count approaches and he jumps out the window! (No really, jumps out of a big loft window!)"
– Douglas Turner (Architects of Tomorrow, 2013)
Les Contes d'Hoffmann, New York City
"Kirsten Scott, a mezzo-soprano, moved and sang gracefully as the muse and Nicklausse, Hoffmann's trusty sidekick."
– Vivien Schweitzer (New York Times, 2013)
"As Nicklausse, Kirsten Scott grounded [Won Whi] Choi with her warm mezzo and soothing presence. She tossed off 'Une poupee aux yeux d'email' with insouciance and let the gentle Muse shine through in "C'est l'amour vainqueur."
– Joanne Sydney Lessner (Opera News, 2013)
"Mezzo Kirsten Scott was a superb Nicklausse. Scott's singing in the famed Barcarolle was perfection and her portrayal throughout, including the narration as the Muse at the finale, was sung and spoken with tonal beauty and élan."
– Nino Pantano (Brooklyn Daily Eagle, 2013)
"As The Muse, Kirsten Scott created a winning character and sang with a lovely evenness of tone throughout her register. One sensed the worthiness of her motives and the resourcefulness of her strategies. We particularly enjoyed her "Violin Aria"."
– Meche Kroop (Voce di meche, 2013)
Don Giovanni, Loft Opera, New York City
"Kirsten Scott performed as an exquisite Zerlina [and] was a favorite of mine. She was a pleasure to watch, gliding effortlessly through the role dramatically and vocally, and playing well off of Ellis-Ferris' naive Masetto."
– Sean Christensen (2013)
Review from Wall Street Journal (2013)
Review from WQXR radio Operavore (2013)
Mavra, New York City
New York Times Review (2012)
Don Giovanni, New York City
"The winsome soprano Kirsten Scott made a charming Zerlina, shining brightly in both her arias."
- Meche Kroop (Voce di meche, 2012)
Terrible Beauty by David Matthews, Aspen Summer Music Festival
"In between came "Terrible Beauty," a 2007 piece by English composer David Matthews for mezzo-soprano and small orchestra based on texts from Homer's 'Iliad,' Shakespeare's 'Antony and Cleopatra.' Kirsten Scott delivered them engagingly, the music a pleasant, mildly dissonant wash."
- Harvey Steiman (Aspen Times, 2011)